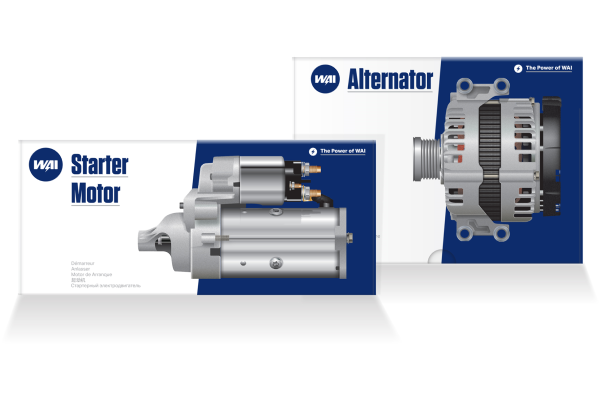 WAI introduces NTR alternators
---
12 Apr 2019
Category: Articles, Press Releases, Product News
Wider choice means greater coverage under its rotating electrics range
Bognor Regis, England 2019: WAIglobal has added new alternators to its OE quality aftermarket range of rotating electrics, highlighting its commitment to bringing to market products that meet customer demand and provide greater vehicle coverage.
Five new part numbers have been introduced, applicable for a number of top vehicle marques including Mercedes, Mitsubishi and Dacia with the new references also listed on both MAM and TecDoc cataloguing systems.
The new additions include part number 20544N, offering coverage for Mitsubishi Pajero/Shogun 3.5 Petrol (2000-2007); part number 20547N covers Dacia Duster 1.5 Diesel (2012-); part number 20913N provides coverage for Dacia Duster 1.6 petrol (2012-2016) and part number 20560N covers Ford C-Max/Focus/Kuga 2.0 TDCi (2014>).
Finally, part number 11445N provides coverage for Mercedes GL 320/GL350/R300/R320/R350 Cdi (2006>).
WAI is keen to highlight the importance of quality parts with the internationally-recognised supplier bringing 100 percent new alternators and starter motors to market using premium materials.
Poor quality starters and alternators can result in serious consequences for a vehicle's engine, leading to expensive repair bills and therefore it is recommended to opt for a proven product first time round to avoid bigger costs in the long run.
All products in WAI's rotating electrics range undergo stringent validation processes and are triple-tested as they are checked during manufacture, after manufacture and, once they arrive at WAI's headquarters.
These tests involve salt and temperature testing to enhance corrosion resistance, as well as validation testing, including endurance, humidity, power thermal cycling, vibration and thermal shock.
A full technical support service that provides comprehensive advice on fitting procedures and in-service issues is available as standard when ordering each part.
A Leading Parts Manufacturer for the Aftermarket
Innovation and creativity are the forces that drive WAIglobal's success. Since its founding, WAI has worked relentlessly to meet the ever-changing needs of its customers in the automotive, heavy duty and power sports aftermarket. This includes an unwavering commitment to be "first-to-market" with the latest model products available.
As a leading parts manufacturer, sourcing, and distribution/logistics company, WAI offers its aftermarket customers ready access to an extensive range of products.