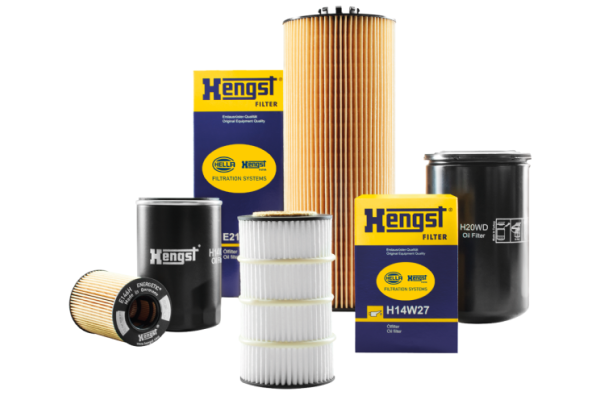 Filtering out the unnecessary – HELLA Hengst's new oil filter module
---
16 Oct 2019
Category: Articles, Press Releases
New compact filter module for Mercedes AMG applications
Chipping Warden. 15th October 2019. Drivers rely on their vehicles working efficiently and effectively without having to worry about what's going on under the bonnet. Filtration is an essential part of this process and to maintain their performance, it is essential that they are regularly checked and, if necessary, replaced with matching original equipment (OE) quality components.
Particularly due to developments in engine technology in the last decade, internal combustion engines have to perform extremely efficiently and therefore, to minimise friction, they need thorough lubrication, which requires a considerable quantity of oil to be pumped around their internal components every minute. The oil must be in good condition and as clean as possible, which is why fitting a premium quality oil filter is so important, as it also helps minimise emissions and optimise fuel efficiency.
As it is such an important component within the system, it is crucial that the oil filter is replaced according to the vehicle manufacturer's specified service schedule. With more than 260 oil filter references, HELLA Hengst can provide the solution for virtually every passenger car and light commercial vehicle application, all with high dirt absorption capacity and pressure, temperature and pulsation resistance under extreme operating pressures.
Recently, HELLA Hengst has begun supplying a compact oil filter module, with maximum filter area in the smallest possible installation space, for OE fitment to the four-cylinder petrol engine from Mercedes AMG.
The ENERGETIC® oil filter element, E155H D122, guarantees a fast and environmentally friendly filter change, which saves technicians having to throw an entire filter cartridge away, as they simply replace the filter element inside the module, therefore, producing less waste. Due to the innovative design, the clipped-in filter insert with the screw cap even pulls out of the housing without the oil escaping.
For particularly demanding applications, the filter insert is also available as E155H01 D122 with a fully synthetic medium.
For more information about the HELLA Hengst filtration range, contact our sales team on 01295 662324 or email [email protected]