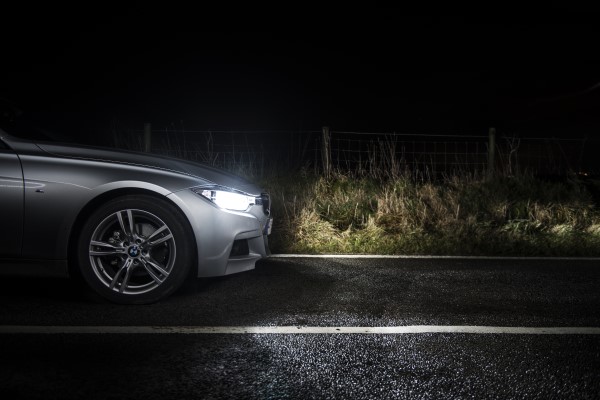 New research shows that xenon HIDs should be replaced every 3 years
---
25 Feb 2019
Category: Articles, Press Releases, Product News
New research shows that xenon HIDs should be replaced every 3 years says RING
Garages can help improve driver safety and boost profits this MOT season by advising drivers to replace their xenon HID headlamps if they are over three years old, research from Ring – the vehicle lighting specialists – suggests.
Ring's findings show that while xenon HID headlamps may still illuminate and appear white, after three years the light output will have dropped significantly – potentially below legal limits. In tests done in its state-of-the-art, ISO:9001-accredited beam laboratories, Ring found that the overall lumens light output from four-year-old HID bulbs had dropped by around 17.5% compared to equivalent new xenon HID bulbs – taking them below the legal limits for light output for HID bulbs as set out in ECE Reg 99. The lux output at the brightest point of the beam had dropped by around 59.5% when comparing the old bulb with the equivalent new xenon HID.*
"When a customer is in for a MOT and service, it's the ideal opportunity to discuss xenon HID bulbs and replacement. We've tested the light output of new versus four-year-old bulbs, and can see a significant drop in light output, and based on this and other tests, we are advising technicians to recommend replacing xenon HID bulbs every three year. It's a value-added service that provides an opportunity for garages, who can offer bulb replacement, and improves driving conditions for their customers. The driver may not have noticed the reduction in visibility as the change will have been gradual, meaning that advice from professionals is even more necessary to ensure optimal driving conditions," said Carl Harrison, Xenon HID Product Manager at Ring.
Around 10% of the UK car parc has xenon HID bulbs fitted, and these vehicles offer a key opportunity for garages. These bulbs need to be installed by trained technician, and must always be replaced in pairs, as if they are not, the colour output of the bulbs will be mismatched. With a higher cost per bulb and more time-consuming fit, there is a clear opportunity for garages to profit, while still offering better value and service than main dealers.
Continues Harrison: "There's a perception that xenon HIDs must be fitted by a main dealer. This is not the case, and we want to ensure that independent garages don't miss out on fitting xenon HIDs. There's even an opportunity to upsell to brighter and whiter options. These upgrade bulbs put more light on the road than standard HIDs, or produce a whiter light for an even more high spec look and a match to LED daytime running lamps. As these bulbs will last for three years, this extra investment can be worthwhile for drivers that want the best in their vehicle."
Ring offers a range of xenon HID bulbs, including popular references D3 and D4, plus the newer D5 reference, as well as brighter and whiter upgrade options. For more details about xenon HIDs, plus fitting advice, visit www.ringautomotive.com/webapps/refit-hids/
*About the test results
Lumens are used to measure the overall output of a bulb, and this measurement takes into account all the light emitted across the entire beam. Lux is used to measure the light output at the brightest point – or hotspot – of the bulb. This is the point at which the light is focused to give optimum visibility when driving. The table below shows the results of the new bulbs and the four-year-old bulb, with the legal limits as set out in ECE Reg 99 for comparison.
 
Four-year-old xenon HID bulbs
Equivalent new Ring xenon HID
Legal limits set out in ECE Reg 99
Overall lumen output

(average between two headlamps)

2632.81
3200
Minimum: 2750
Lux output at brightest point

(average between two headlamps)

187.35
462.5
NA
About Xenon HIDs
The introduction of xenon HID bulbs has been one of the biggest vehicle lighting developments of the last 20 years. Xenon HID bulbs are different from ordinary bulbs as they have no filament. Instead, they have a glass capsule in the centre of the bulb containing xenon gas. Two metal electrodes going into the glass capsule enable a high voltage to cross the xenon gas. This voltage ignites the gas to produce a bright white light output.  For the bulbs to illuminate, the start-up voltage must be very high and therefore a ballast is required for each headlamp. These ballasts convert the vehicle's 12V DC voltage to ignite the bulb and then maintain a lower operating voltage.
As xenon HID bulbs become more common and are no longer restricted to just premium or luxury cars, many more motorists are now benefiting from the crisper, whiter colour temperatures, helping them see road signs and obstacles more clearly. In addition, legislation was introduced in 2012 so new vehicles produced after then would use D3 and D4 references, which do not contain mercury.
Ring also has a fitting video, to give technicians guidance when changing xenon HIDS. See video here.